TRC History Page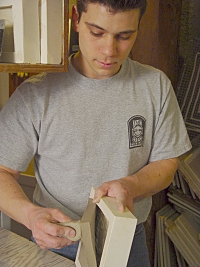 Tile Restoration Center is a small tile company in Seattle, Washington dedicated to producing historically accurate reproductions of American Arts & Crafts tile makers such as Ernest Batchelder and Claycraft. We have also created dozens of new designs in the Arts & Crafts style to complement those historical images that we faithfully reproduce. We pride ourselves on the amount of care and hand work that goes into each and every tile we make, not just for looks, but in the dignified and creative spirit of the early twentieth century.
While Ernest Batchelder's factory employed up to 175 workers at the height of his production, the size of our team varies from 4 to 6 workers, all of whom contribute greatly to the production of our unique tiles. As every step of production influences the final results, each team member is cross-trained in many areas of specialty. This means that every tile we produce is truly the result of a coordinated effort. We have recreated and still employ many of the techniques and materials of the Arts & Crafts era, as we have found that there is no substitute for the look and feel that hand labor creates.
The quality of our historic and more recent designs, the great variety of our pictorial themes, and our enduringly muted colors distinguish our tiles among other high quality products. The hand-wrought individuality and natural tones of our tiles make them uniquely suited to accent homes from the quaintly rustic to the tastefully modern. The soft, natural warmth and earthy quality of our tiles makes them feel familiar, even in new installations, where they add a touch of coziness to any home. We dedicate our efforts not just to the quality of the products of the Arts & Crafts era, but also to the ideals that value the combination of hand labor with creativity.
Tile Restoration Center is owned and operated by Steve Moon, an employee of over ten years and long time studio manager. In 2005, Steve started a company called Monkey Works, Inc to facilitate the purchase of Tile Restoration Center and to produce other styles of ceramic housewares. See Company History here.
---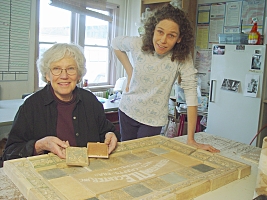 Tile Restoration Center was founded in the late 1980's by Marie Glasse Tapp, a potter and ceramic artist familiar with the work of Ernest Batchelder and other Southern California tile makers of the early twentieth century. In addition to teaching ceramics and producing tiles and pottery, Marie set about restoring tiled fireplaces on sites around the country.

As she worked to restore historic tile installations in Washington State, she encountered the need to replace a few irreparable Batchelder tiles. In order to do this, Marie needed to deduce and devise a method to create new tiles with the look and feel of those old distressed tiles. The concept of Tile Restoration Center was then set to evolve from a business of strictly restoration to primarily reproduction of historic tiles. Marie chose to focus on the work of Ernest Batchelder and Claycraft, whose subtle, unglazed surfaces flowed with warmth and craftsmanship.

Marie was later joined by her daughter, Delia Tapp, and together they developed Tile Restoration Center into a nationally recognized and respected source for quality historic reproduction tiles. They reproduced dozens of designs from Batchelder and Claycraft, and added several new designs in the style of those early artisans.

In 2005, Marie and Delia sold Tile Restoration Center to Steve Moon, the studio manager and team member of more than 10 years. As Marie and Delia did before him, Steve honors the quality and craftsmanship of the past while building on its strong foundations. We look forward to bringing in more historic reproduction designs, as well as some original designs to complement our extensive catalog.

USES FOR TILES
Fireplaces, fountains, wainscot, kitchen and bath. NOTE: We do not recommend our tiles for areas that need excessive cleaning, i.e. countertops or shower stalls. Harsh cleansers can break down the surface of the tile.

DURABILITY
Tiles are fired to over 2000 degrees, are semi-vitreous (moisture absorption 1 - 6%) and durable for use in most installations.
Carved Relief Designs
Trims and Borders
Durability
Design Time/Consultation
LEAD TIME
4 to 20 weeks, depending on whether it is a stock or custom order. Average order is 6 - 10 weeks from contract and deposit, but it depends on the size of each job and on the amount of work that is in the studio at the time.